Después de una largo tiempo sin postear y después de mucho trabajo, puedo presentaros hoy una nueva print a la venta de un collage, aún no las tengo en el estudio, pero abro ya la recepción de pedidos. Lo compuse hace unos años y un poco después lo plasmaría en un muro, como si de una pieza en wildstyle se tratara, pero sin letra alguna.
Es algo nuevo, un experimento, un ejercicio de estilo que va unos pasos más allá y que contiene una viva carga poética, algo que el medio clásico del wildstyle no me permitía poder expresar pero que ya lo había estado planeando como idea muchas veces sin hallar solución, hasta que un día di con ello.
El tema alude claramente a las guerras y a los abusos de poder, hoy tristemente tan actuales y que tanta repulsa nos producen como en Palestina, Colombia o Chile. El abuso del poder es muy viejo y ya no lo aceptamos más, aunque siga vigente. Pero hoy somos muchos los que nos alzamos y rebelamos contra estas injusticias, el mundo se ha alzado y ha dicho basta a tanta barbarie, queremos vivir dignamente como un pueblo planetario consciente y superando estas violentas y bárbaras etapas que arrastramos desde el principio de la civilización, aunque el viejo mundo que conocíamos está muriendo, acabando, hay un cambio planetario en marcha.
El collage en otra lectura también parece referirse a nuestro comportamiento hacia los animales, a nuestra violencia gratuita que hemos ejercido sobre los compañeros de nuestro planeta, a nuestros hermanos menores, parece que una fuerte conciencia en este sentido se ha despertado en nosotros, hemos comprendido que nuestra actitud es incorrecta, inhumana, porque estamos todos más conectados que nunca con redes sociales y nos hemos sensibilizado enormemente como especie cósmica consciente y responsable, o vamos por este camino.
Es mi deseo que aportemos cada uno su parte para que así sea, creo que estoy haciendo mi trabajo en este sentido con la única voz que tengo en este mundo, y ese es mi trabajo, mi arte, con el puedo ayudar a iluminar conciencias y a fortalecer ideas. Ese es mi poder.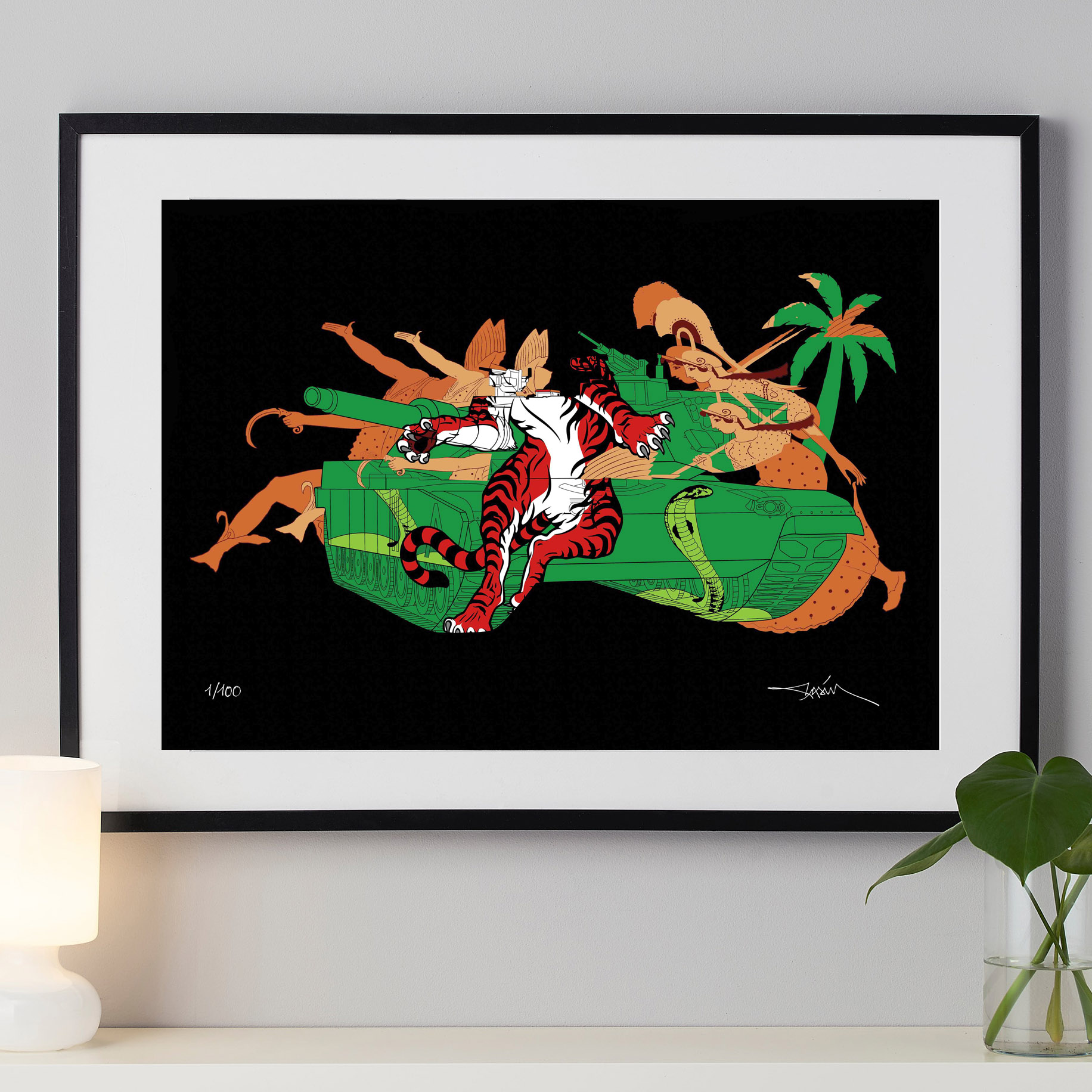 After a long time without posting and after a lot of work, I can present today a new print for sale of a collage, I don't have them in the studio yet, but I open the reception of orders. I composed it a few years ago and a little later I put it on a wall, as if it were a wildstyle piece, but without any lyrics.
It is something new, an experiment, an exercise in style that goes a few steps further and contains a lively poetic charge, something that the classic wildstyle medium did not allow me to express but that I had already been planning it as an idea many times without finding a solution, until one day I came up with it.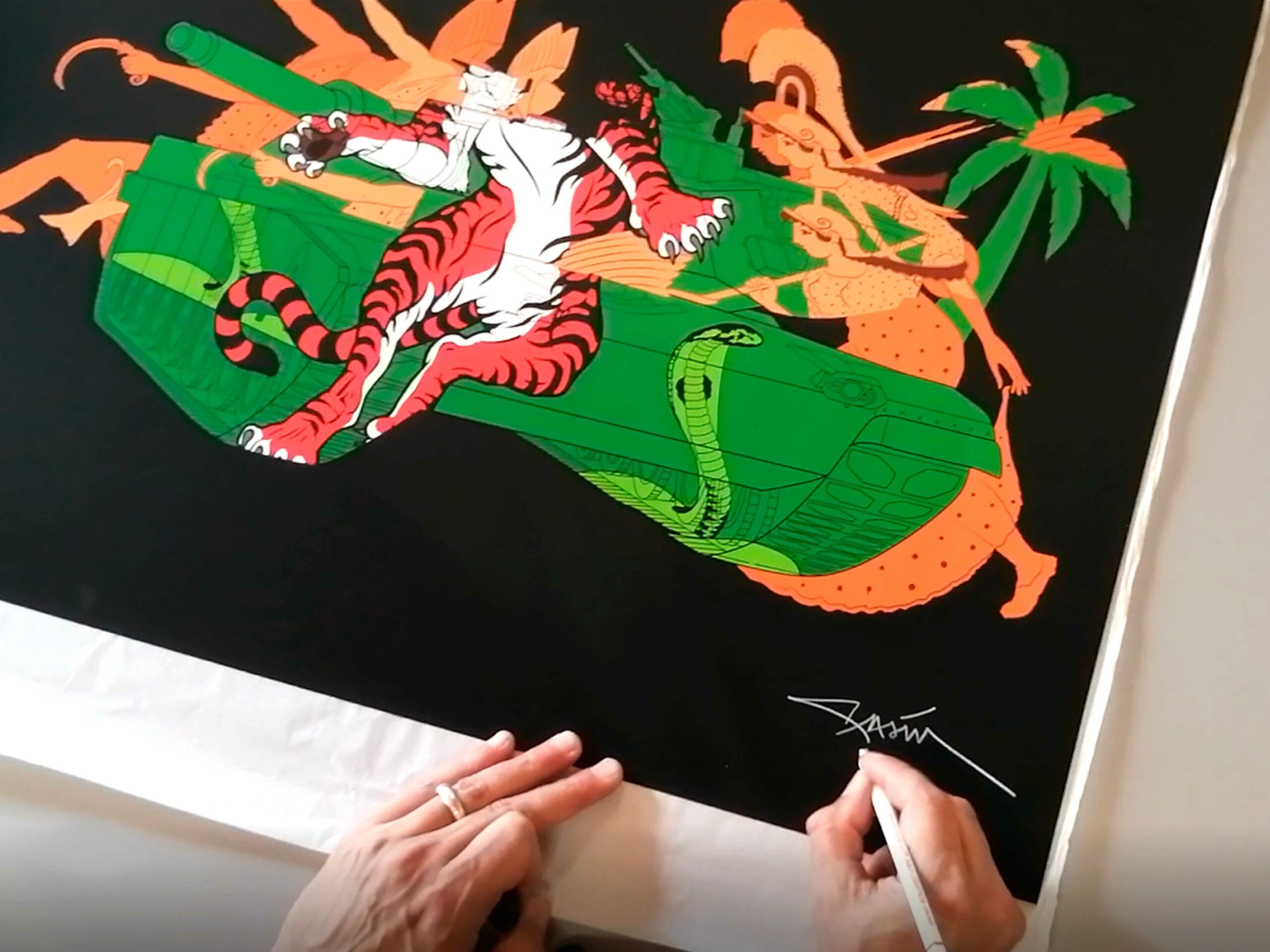 The theme clearly alludes to the wars and abuses of power, sadly so current today and so repulsive to us as in Palestine, Colombia or Chile. The abuse of power is very old and we no longer accept it, although it is still in force. But today there are many of us who rise up and rebel against these injustices, the world has risen up and has said enough to so much barbarism, we want to live with dignity as a conscious planetary people and overcoming these violent and barbaric stages that we have dragged since the beginning of civilization, although the old world we knew is dying, ending, there is a planetary change underway.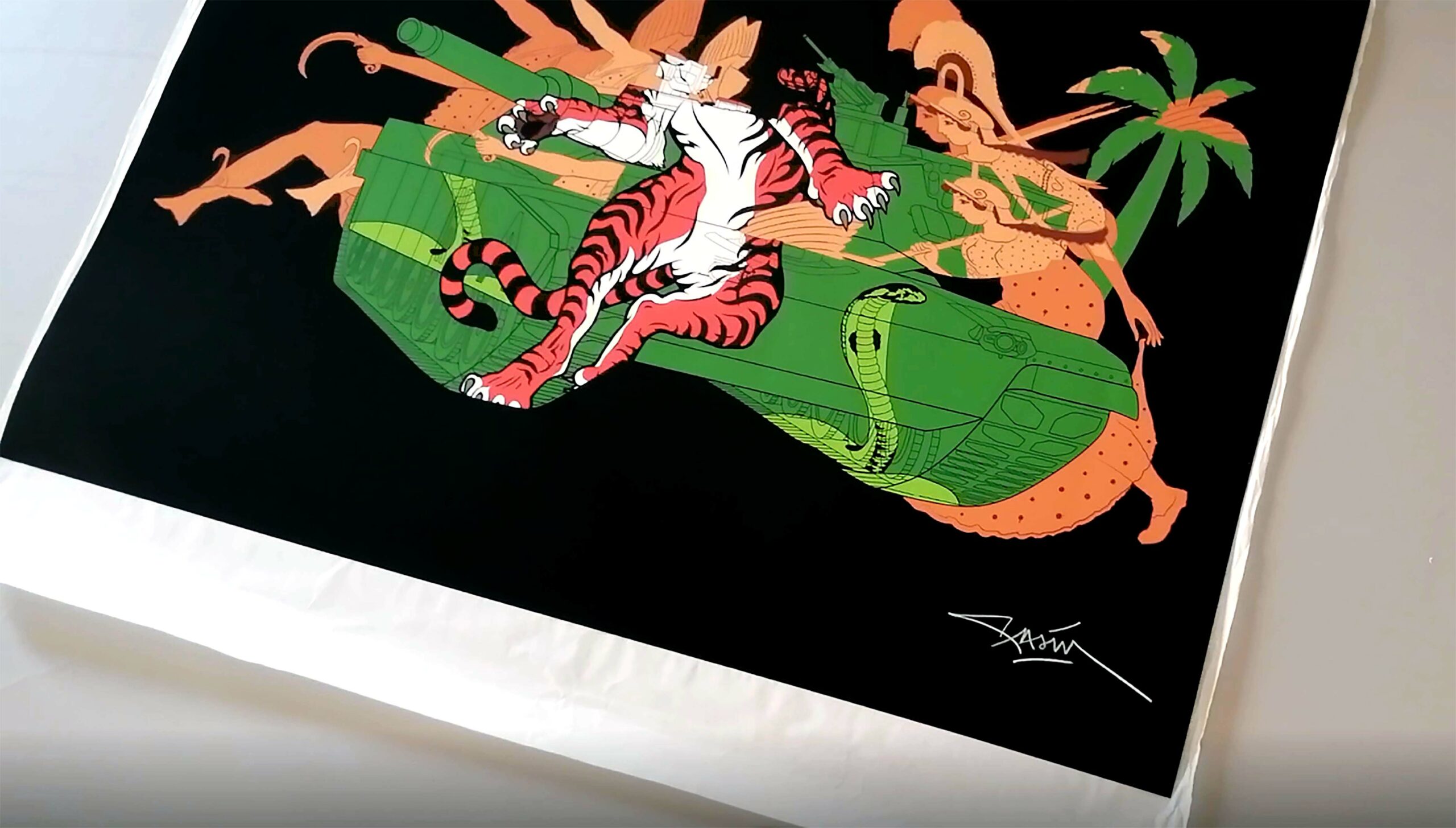 The collage in another reading also seems to refer to our behavior towards animals, to our gratuitous violence that we have exercised on the companions of our planet, to our younger brothers, it seems that a strong conscience in this sense has awakened in us, we have understood that our attitude is wrong, inhuman, because we are all more connected than ever with social networks and we have become enormously sensitized as a conscious and responsible cosmic species, or we are on this path.
I believe that I am doing my job in this sense with the only voice I have in this world, and that is my job, my art, with which I can help to enlighten consciences and strengthen ideas. That is my power.
____________________________________________________
Título: Stop Wars!
Tamaño: 70 cm X 50 cm
Técnica: Obra gráfica / Collage / Adobe Illustrator CC.
Edición de 100 ejemplares numerados y firmados a mano con lápiz blanco.
Impresión glicée, con tintas pigmentadas sobre papel Canson Etching Rag 310g libre de ácido, 100% algodón.
Año de realización: 2020/21
Precio: 180€ / Envío certificado + tracking number.
Contiene certificado de autenticidad. Se envía en tubo de cartón a todo el mundo.
(Gastos de envío gratuitos, solo para envíos a España, hasta el 31 de agosto)
180€ + 30€ UE / Correos Express / Envío certificado + número de tracking.
180€ + 40€ Envío US + Internacional / Correos Express / Envío certificado + número de tracking.
(De 7 a 10 días para entrega después de realizar el pedido, debido a la fragilidad del papel no es posible devolución. Marco no incluido, sugerencia de presentación.)
You can also purchase it at;