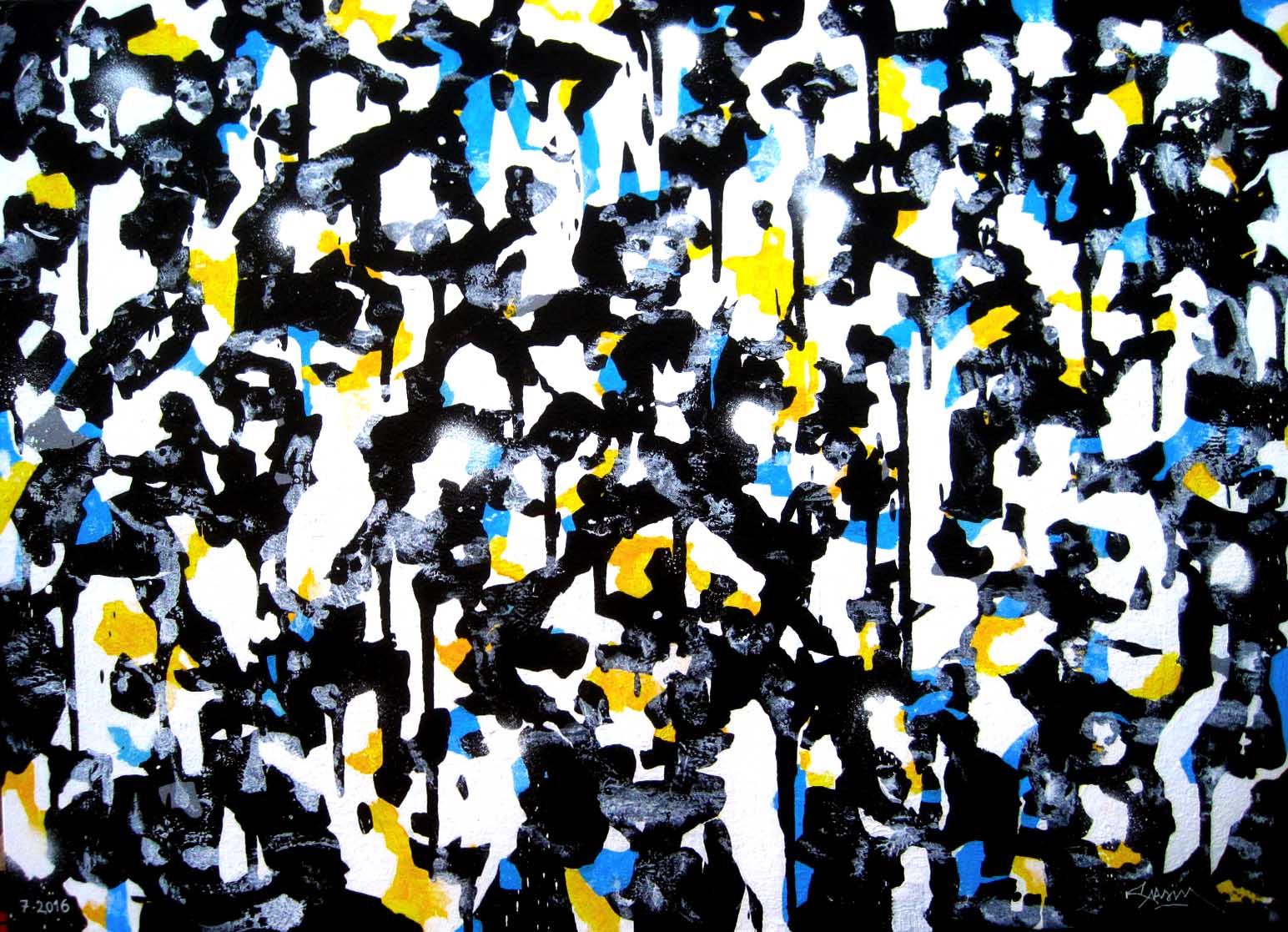 DISTORTIONS / international collective art exhibition
SEN2 / JANK / PRO176 / ZOMB / JABA / AYAKAMAY / DONA / YUDOE 06 / WUNA / KERO / KARMA 7 / TRAFIC / TWO RISE / FASIM / BRK 192 / TERA.P / ART CHIE / JEBA / CORE 246 / SILVIA.D / SLEAF / TIZER / FALSE / RELAY / LADY CULPA / LA GINJOL / SOCK 7 / JAY KAES…


( Show commisioned by Jay Kaes )

DISTORTION  (noun)  DISAMBIGUATION



A lack of proportionality in an image resulting from defects in the optical system
We live in an era of over-information, where the general public is manipulated by the fear and consumerism that is created through propaganda. Our era is characterized by a lack of knowledge about who we are, and by lying and and being lied to we unconsciously associate even more deeply with this conundrum. Which of the many faces that we show is our real one? It may exist in a distorted version of reality, where nothing is visible – and we, as artists, may provide the special lens that is needed to see it.
This exhibition brings top graffiti writers, video and performance artists to Red Gallery in London to show a collective reaction to the manipulation of street culture. The artists will bring their street-savvy style to the gallery through real life experience, which for them has been making their mark in the streets and living their purpose on the run.
1. We will convey the love of danger, the habit of channeling energy, and vigor.

2. Courage, audacity, and revolt will be essential elements of our art.

3. We affirm that the splendor of the world has been enriched by a new beauty: the beauty of distortion.

4. We want to praise the man who has the courage to use his art, who catapults himself into the circuit of Earth's orbit, who transcends his own small place in the world.

5. Famous street art has magnified the politics of thought, revealed the true face of lies, and characterized humanity's bigger picture. We want to magnify our contact with the city streets, the unspoken aggressiveness of the suburbs, and the visceral need for honest expression in the world.

6. We believe that no work of art without aggressive character can be considered a masterpiece. The beauty must radiate a violent assault against the unknown and convert dissent into exaltation.
7. We welcome all kind of sexuality or art that represent the streets. We love mixture.
We are seen as children simply playing with colours, but that is just another distortion created by misinformation. In reality, we are a worldwide community, and in our line up you will find authentic, successful, educated and serious people that, through their own personal distortions, make a living distorting graffiti, in effort to make the most significant contact with the world possible.
Sydney Jane / Hartford, Connecticut, USA
20th JULY till 30th JULY / RED GALLERY LONDON / 1 – 3 Rivington St, London EC2A 3DT